Amber Kool, associate provost for Arizona College of Nursing, shares the importance of teaching self-care in the curriculum to ensure future nurses have the tools to provide for their own well-being so they can care for patients. Read more about the state of nursing in AZ and strategies to improve work related issues.
---
Daily Independent, January 26, 2023 /NewsBreak.com/—Nearly three years after the start of the COVID-19 pandemic, medical profession are still facing major work-related issues resulting in a decline in nurses in Arizona and the U.S.. According to the U.S. Census Bureau, the nursing shortage was projected to reach more than 1 million nationally by the end of 2022. The bureau found of nurses in the U.S., more then 50% are over the age of 55 and one in five health care workers quit their jobs during the pandemic.
BLS estimates the U.S. is in need of 203,000 new registered nurses every year until 2026 to offset losses in a retiring workforce. With a large portion of the U.S. population on the verge of being able to retire, experts warn this could be an even bigger issue. In Arizona this issue of baby boomers aging and nurses retiring is going to be a new problem.
According to the U.S. Census Bureau, 2030 marks an important demographic turning point in U.S. history, according to a census conducted in 2017. National population projections by the end of the decade show baby boomers will be older than age 65 and will be one in every five residents in the U.S.
"The aging of baby boomers means that within just a couple decades, older people are projected to outnumber children for the first time in U.S. history," demographer with the Census Bureau Jonathan Vespa stated in the report. In Arizona there are an estimated 667,000 residents age 65 and over, which makes up 13% of the total population of the state. With the population booming being all across the Valley coupled with the largest group of retires, the state is expected to see this continue to be an issue.
Dealing with now
According to the Arizona College of Nursing, the state ranks in the top 10 in the U.S. with nursing shortages. According to college experts, even before the pandemic there had been a health care staff shortage in the state. Some reasons they believe this is prevalent is Arizona has an aging population and retirement of baby boomers
Amber Kool, associate provost for Arizona College of Nursing, said their are nearly 1 million nurses preparing to retire nationwide, which is looking like another bump in the road for the health care staffing. Nurses have been requesting more support amid shortage crisis, which had already existed since prior to the pandemic, Kool said.
"The nursing shortage has been an ongoing problem long before the pandemic. The pandemic worsened an already bad situation," Kool said. "During the height of the pandemic, there was an increase in patient workload, and nurses saw a significant number of deaths and co-morbidities related to COVID-19. That was a huge emotional impact, and some chose to quit nursing."
She cited burnout as one reason for this turnover. "Nurses are often facing staffing shortages and longer hours. This can lead to increased stress, compassion fatigue and physical exhaustion," Kool said. It will be a long process to solve the nursing crisis, Kool said. It has been something that has been building for more than 20 years, but she is hopeful there will be a neutralizing result in 2023.
"We need to be creative with strategies to improve professional satisfaction in the workplace. Including moving away from 12-hour standard shift to an eight- or 10-hour shift, compensation for retention, nursing mentoring programs, and even shift differentials for going above and beyond in the workplace," Kool stated. Arizona College of Nursing hopes to be an option to get more students qualified for nursing. The school offers a three-year program where students can earn a bachelor's of science in nursing.
"Education is also an area that has not recovered. During the pandemic, providing student nurses with clinical opportunities was difficult and sometimes nearly impossible. Patient care was the priority, and rightly so. But that meant some students didn't progress as quickly in their nursing program," Kool said. Schools like the Arizona College of nursing hope to provide more opportunities to the stress of the medical field by giving students more tools to handle the stress of an average workday.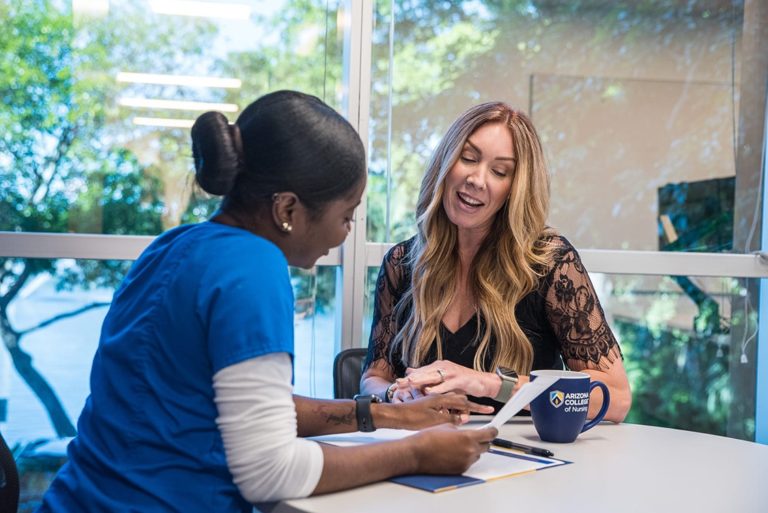 ---
At Arizona College of Nursing, Kool said they teach self-care in the curriculum to ensure future nurses have the tools to provide for their own well-being so they can care for patients. But Kool said she believes hospitals and nursing programs coming together to support one another will help the industry. Partnerships increase the ratio of students for clinical experiences, dedicated education units, preceptor models, internships, and externships are strategies that can be put in place now to positively impact the number of nurses in the future.
Planning for the future
Shelby Job, directors of communications for the Arizona Medical Association, said this issue isn't just being observed for health care staff. "Our health care professionals aren't the only ones affected by medical staffing shortages; administrative staff is also impacted, and ultimately, patients' access to care is limited," Job stated.
Medical staffing shortages are a prolific problem across the county, and this challenge is elevated in Arizona, partly due to many rural areas scattered in the state, which places a tremendous strain on our state's entire healthcare system, Job said. When hospitals, medical practices and other patient care facilities are understaffed, additional obstacles are placed between health care professionals and providing optimal patient care, Job said. Yet ArMa and other organizations in Arizona are looking for solutions to alleviate the personnel shortage.
To make progress, it will take a host of organizations, businesses and individuals working collaboratively and creatively toward a shared goal. Fortunately, this type of effort is already underway, Job said. "On Wednesday, Feb. 16, 2022, ArMA partnered with the nurses, hospitals, and health plans to host 'Healthcare Workforce Day at the Capitol,' which aimed to bring attention to the dire health care personnel shortages our state is facing and spur collaboration between the healthcare community and state officials," Job said.
After this event, the Arizona Legislature passed the 2023 State Budget, which included major funding for Arizona's health care workforce, including $15 million to the Arizona Nurse Education Investment Program, $27 million to the Nursing Clinical Rotation and Licensed Nurse Training Program, and $500,000 for Preceptor Grant Programs for Graduate Students.
Jobs said this investment in the state's healthcare workforce, which totals $42 million per year for the next three years, shows the power and importance of creative collaboration in solving the medical staffing shortage. This coupled with their other programs, ArMa and the ACN is hopeful for the future of the growing healthcare services in the state.