Convenience
Located close to the I-696 & I-10 interchange, our nursing college offers easy access to students in the entire metro Detroit area, centrally located near Washtenaw, Wayne, and Genesee counties.
Community
Be part of building a brand-new community of nursing professionals pursuing their nursing degrees in Detroit.
Camaraderie
Make new friends—and meet future colleagues—among your diverse nursing degree classmates. Our small Michigan nursing school means close attention from our faculty and staff members.
Tour Our Michigan Nursing College in Southfield
Get a taste of nursing college campus life for yourself and take the first step toward gaining a valuable nursing degree.
View and download upcoming start dates for new students on our Academic Calendar page.
Contact us to learn more about Arizona College of Nursing in Southfield and schedule a campus tour.
We know you're busy. That might mean eating lunch or dinner before your next nursing school class, or the need to take a coffee or snack break. Luckily, you'll find a number of places just a 5-10-minute drive from the Arizona College of Nursing – Southfield campus. Just adjacent to our campus building and within walking distance is Subway.
Our campus features a large student area where students can gather, with microwaves and several tables and chairs. In the hallways there are multiple sitting areas, with private small conference rooms available throughout the campus. All of our classrooms have windows with a view, and our campus also features a large student learning center.
Centrally located in the metro Detroit area, our Southfield campus is just off I-696, and a short drive from Washtenaw, Wayne, and Genesee Counties.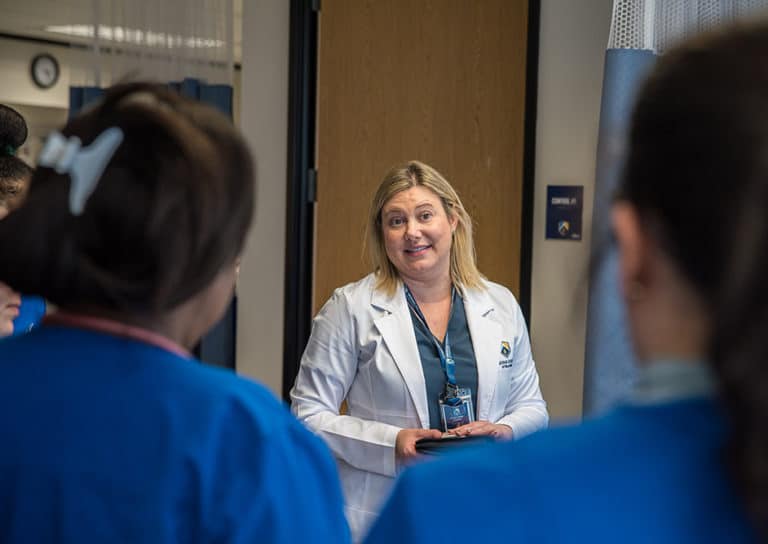 Student Leadership Opportunity
Our Student Ambassador Program is a leadership opportunity for students who are dedicated to serving and representing Arizona College of Nursing. The mission of the Student Ambassador Program is to cultivate student leaders who will share the Arizona College of Nursing experience with prospective students, their families, community members and represent the college at special events.
Help us share our love of nursing by becoming an official Student Ambassador today! Visit our Student Ambassador page to learn more!
Finally, a nursing college near me!
A nursing program for the entire metro Detroit area, centrally located near Washtenaw, Wayne, and Genesee counties.
Request More Information
By requesting info, you consent for us to contact you regarding our educational programs and services using email, telephone or text - including through the use of automated technology for calls or texts to any wireless number you provide. This consent is not required for you to apply or enroll and you may always call us directly.