Why Choose Our Nursing School in Missouri?
Complete a BSN in 3 years or less with eligible transfer credits
Evening classes for all general education courses in Year 1
Earn your BSN in 3 years, or less with qualified transfer credits!
24/7 tutoring available to all students
CCNE-Accredited1 BSN Program
Nursing education is all we do, a BSN program built by nurses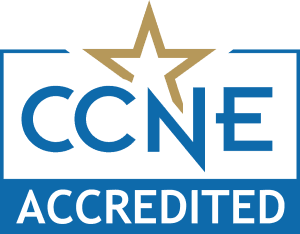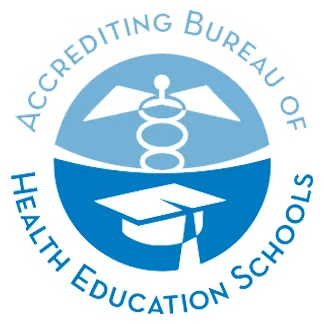 Pursue Your Dream of Becoming a Nurse
Embark on your path to a rewarding nursing career with our 3-year nursing degree in St. Louis. As a CCNE-accredited nursing school in Missouri, we blend classroom instruction, hands-on training, and real-world experience to prepare you for a nursing career in just 3 years.
Get Started
Nursing School Curriculum
We designed our Bachelor of Science in Nursing (BSN) degree program to prepare you for a thriving career as registered nurse (RN). With a curriculum that merges classroom teaching, hands-on labs, real-world clinical experience, and comprehensive NCLEX exam prep, we're here to prepare you for your nursing future.
Sample Classes from Our Accelerated 3-Year BSN Curriculum
Fundamentals of Biology
Introduction to Psychology
Human Anatomy/Physiology I
College Mathematics
First Year Composition (Writing) I
Human Pathophysiology
Human Nutrition
Critical Thinking in Clinical Decision-Making
Pharmacology I
Evidence-Based Practice I
Community Health Nursing + Practicum
Maternal Health Theory and Application + Practicum
Transition to the Nursing Profession
Professional Seminar (NCLEX Preparation)
Maximizing Transfer Credits in Your BSN
At Arizona College of Nursing, we understand that you want to leverage your previous education experience on your journey to a nursing career. With qualifying transfer credits, students can progress through our accredited nursing school in 3 years or less. Our academic advisors will work closely with you to review transcripts and transfer as many credits as possible.
Real-World Nursing Training with Our St. Louis, MO Clinical Partnerships
In the final year of our nursing school, students participate in clinical rotations in healthcare settings throughout Missouri. Working directly with patients and healthcare professionals is crucial to learning nursing skills. We prioritize this experience for our students by partnering with local healthcare providers, giving you plenty of hands-on clinical practice.
Visit Our Accelerated 3-year BSN Program Curriculum Page For More Details.
Get In Touch
A Career-Focused Nursing School in St. Louis
Our 3-year BSN program in St. Louis, Missouri, is designed to equip you with both theoretical knowledge and practical skills. Backed by a CCNE-accredited curriculum and real-life simulations, we help you confidently prepare for a nursing role. Our dedicated Career Services team is always there to support you, from interview coaching to job search assistance. Let us be your partner in your fulfilling journey to a nursing career.
NCLEX Exam Prep at the St. Louis Campus
Our sccredited nursing school in St. Louis is designed to start preparing you for the NCLEX exam on Day 1. Instructors introduce students to NCLEX-style questions and clinical judgment throughout our curriculum to familiarize them with the exam format. Here are just a few of the ways we prepare you for NCLEX:
A class dedicated entirely to preparing for the NCLEX exam.
Virtual practice exams customized for each student
Exam strategies & tips from instructors
Customized assignments & study plans
In 2022 Arizona College of Nursing has an average NCLEX pass rate of 84.89% across all campuses, higher than the national 2022 U.S. average of 82.32%.*
Hear From Students in Our Nursing School
The teachers and administration of Arizona College really do care about us. In my first month, the Dean had a 1-on-1 meeting with me to see how I was feeling. I don't think I could find that level of support anywhere else.

Isabella Berry, BSN Program Class of 2022
If you are doubting whether you can become a nurse, the Arizona College teachers and staff will show you that you absolutely can. Every teacher is dedicated to mentoring and supporting students as much as possible.

Liezel Milad, Nursing Program Class of 2021
An Accredited Nursing School Near Me in St. Louis, MO
Our nursing school in Missouri is here for students in St. Louis and the surrounding area in Missouri, including O'Fallon, St. Charles, St. Peters, Florissant, and Chesterfield.
Monday – Thursday 9:00 am – 6:00 pm, Friday 9:00 am – 5:00 pm, Saturday-Sunday Closed
Additional hours available upon request.
Explore Our Missouri Nursing School in St. Louis
Our St. Louis campus is a close-knit community with many social events like Welcome Week, Dinner with the Dean, and ice cream socials. We celebrate together, too, with a transition ceremony as students move from general education to core classes.
We know you're busy. That might mean grabbing lunch or dinner before class or taking a snack break. Our campus café offers a variety of vending options, including beverages, snacks, and fresh, ready-to-eat items. Within a 5 minute drive, you'll find us close to Westport Plaza with a lot of restaurant options. .
Visit our campus to learn more about our accelerated 3-year degree, which prepares you to take on a wider range of responsibilities than an ADN, CNA, LVN, or LPN nursing program.
Visit our St. Louis Campus Life and Campus Leadership pages for more information on our accelerated nursing program in Missouri.
Nursing School Scholarship Opportunities
As you consider accredited 3-year nursing schools in St. Louis, we know that the cost of the program is an important factor in your decision. Students can receive up to $5,000 in scholarship support.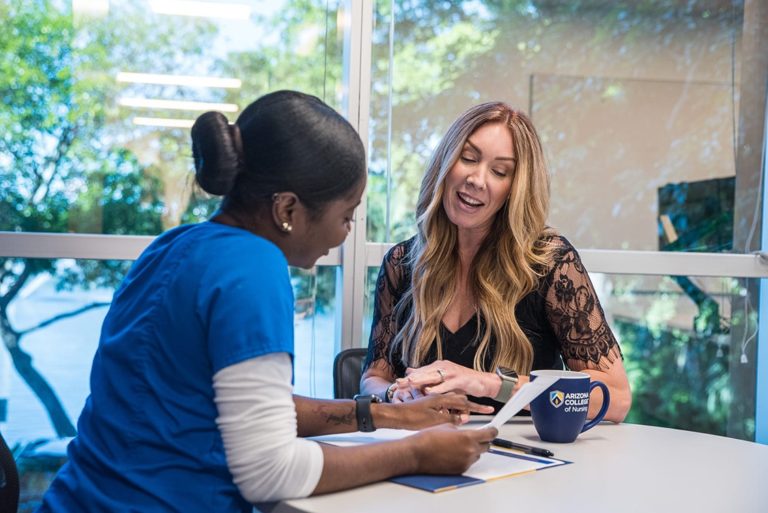 Click the button below to learn more about our Missouri nursing scholarships and to determine eligibility
Futures Scholarship
Advancement Scholarship
Working Parent Scholarship
Achievement Scholarship
Opportunity Scholarship
Frequently Asked Questions About Our St. Louis Campus
Browse below and click on the following link to view the most frequently asked questions at our St. Louis nursing school. Not in St. Louis? Find a nursing school near you by visiting our Campus Locations Page.
Arizona College of Nursing – St. Louis
(855) 706-8382 info@arizonacollege.edu
1807 Park 270 Drive Suite 500 Maryland Heights, MO 63146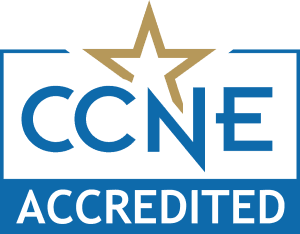 1
The Bachelor of Science in Nursing (BSN) degree program at Arizona College of Nursing is accredited by the Commission on Collegiate Nursing Education (
https://www.aacnnursing.org/CCNE
).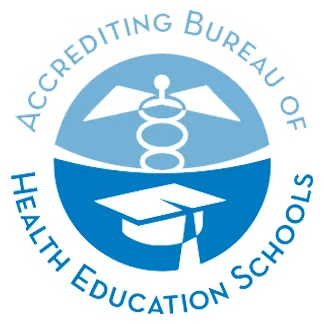 Request More Information
By requesting info, you consent for us to contact you regarding our educational programs and services using email, telephone or text - including through the use of automated technology for calls or texts to any wireless number you provide. This consent is not required for you to apply or enroll and you may always call us directly.