Healthcare Career-Focused Training and Support
Why our allied health school is right for you:
All programs can be completed in under 9 months
Online / In-Person hybrid learning available for certain programs
No High School Diploma or GED needed for the majority of diploma programs
New class sessions start about every 5 weeks
No waitlist for enrollment
Small class sizes and personalized attention
Career services employment assistance
Get Started Today
Now Offering 4 Allied Health Programs in Mesa
We currently offer 4 Allied Health programs for you to choose from at our Mesa, Arizona campus to help you prepare for a career in the growing healthcare industry. Our east valley healthcare school in Mesa is conveniently located close to Tempe, Chandler, and Gilbert. Benefit from expert instruction, hands-on technical training, and industry standard facilities with real medical equipment at Arizona College – Mesa. Click on one of our Allied Health program links below to learn more.
Small Class Sizes & Personalized Attention
At Arizona College we take pride in our small class sizes and the personalized attention we are able to deliver to our students. Our Career Services team offers continued support to all Arizona College students and graduates with job search and employment services.
A High School diploma is not a requirement for diploma program enrollment – We have options for students enrolling without a high school diploma or GED.
Students starting on November 21st, 2022, or later will receive a preloaded Windows 

Tablet included in their tuition, to use throughout school and keep upon graduation.

We have no waiting list for enrollment – Between our no waitlist, fast-track admissions, and new class sessions starting every 5 weeks, we make your first step towards a new career in healthcare accessible and convenient.
Visit our Allied Health Mesa Campus
There are many benefits to attending Arizona College, including personalized attention from knowledgeable faculty, flexible program start dates, tutoring services, and financial aid options. Our Student Services team is also here to help you tackle daily needs such as class scheduling or transportation options.
Located just off Highways 101 and 202, Arizona College – Mesa is easily accessible from the light rail stop on Dobson and Main and from anywhere in the Phoenix East Valley. Request information now to talk with our Admissions team about our programs, enrollment processes, and campus tours. No GED or High School diploma is required.
Finally, an allied health school near me!
A Mesa college for the entire east valley including Tempe, Chandler, Gilbert, and Mesa.
Additional hours available upon request.
Mesa Allied Health Program Overviews
Learn from medical experts at Arizona College. Our teaching staff has years of experience working in healthcare and they're passionate about teaching the next generation of healthcare professionals. Whether you are interested in enrolling in our Medical Assistant Program, Pharmacy Technician Program, Medical Billing and Coding Program, or Dental Assistant Program, our faculty and staff will prepare you for a rewarding career in healthcare.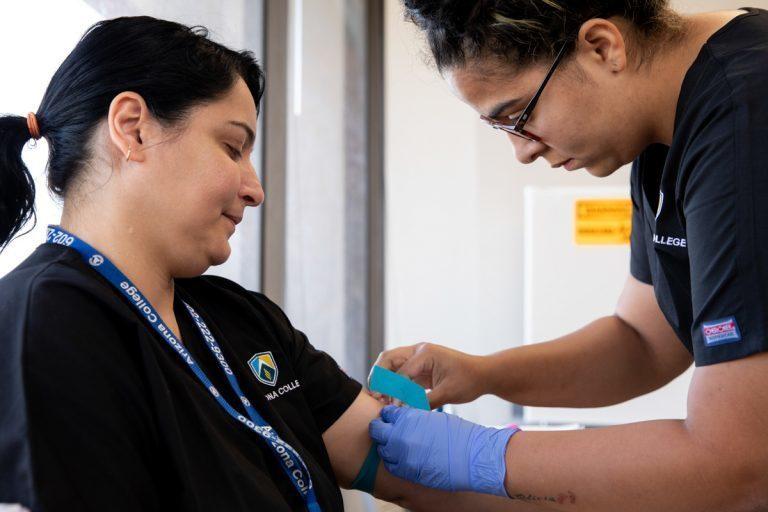 Our Medical Assistant program with Phlebotomy training is a 31-week hybrid program that includes both online and in-person classes. The medical assistant program is divided into 3 academic quarters. After the on-campus portion of the program, each student completes an off-campus 6-week clinical externship. Including this externship, the entire program can be completed in under 7 months.
Arizona Medical Assistants are not required to have certification in order to work in the field. However, graduates of our program are recommended to become certified as either a Registered or Certified Medical Assistant or Phlebotomy Technician to enhance their resume and knowledge in the field.
Arizona College's dental assistant program takes a total of four quarters (38 weeks) to complete. It's a hybrid program that includes both online and in-person classes.  After completing the on-campus portion of the program, you'll participate in an off-campus, eight-week clinical externship that provides you with real-world, hands-on experience in a dental practice setting. Not only will you be prepared for success through interactive learning, but two of the component exams necessary for certification, Radiation Health and Safety (RHS) and Infection Control (ICE), can be completed during the program.
Arizona Dental Assistants enjoy a balance of connecting with people through patient care, taking x-rays, maintaining patient records, and scheduling appointments.
34-week undergraduate diploma program offered at our Glendale & Mesa Campuses. Pharmacy technician training is hybrid program that contains both online and in-person classes. When you're deciding where and how to obtain your pharmacy technician training, you'll want a school that offers high-quality education in the classroom, personalized support, and the opportunity to get your hands dirty with real-life experience. Being both knowledgeable and experienced will make you a top candidate for employment after you get your diploma. Arizona College's Pharmacy Technician program gives you the best of both worlds. Not only does the program hold a strong focus on classroom education, but you'll also receive an opportunity for an off-site externship following the program's completion.
30-week undergraduate diploma program offered at our Glendale & Mesa Campuses. This is a hybrid program that includes both online/in-person classes. Medical Billing and Coding (or Health Information) is an exciting, fast-growing, in-demand allied health field that can allow you to enter the medical field without providing direct patient care. Arizona College's Medical Billing & Coding diploma program features an off-campus, 5-week clinical externship that provides you with real-world experience in the field of medical information. Including the externship, the program length is approximately 30 weeks (6 quarters).
30-week associate of applied science degree program offered 100% online through our Glendale campus. HCA coursework features a comprehensive academic curriculum that includes coursework with an emphasis on management while preparing you to support the business side of a health office. Our health administration courses cover training on the computer skills required for your administrative role and are taught by experienced faculty.
Featured healthcare career posts for our allied health programs
Tools for Your Success
Our Career Services team offers job search support and employment services to all Arizona College students and graduates, providing valuable tips and tools for resumes, cover letters, job applications, and preparing for interviews. We also provide our students support with conflict resolution, on-the-job success, networking, and planning for your future.
,
National & Programmatic Accreditation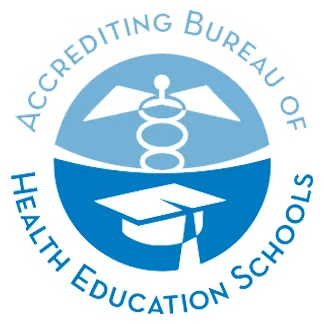 The Pharmacy Technician program at Arizona College is is accredited by the American Society of Health-System Pharmacists (ASHP). Accreditation is the act of granting credit or recognition, especially to an educational institution that maintains quality and compliance with the ASHP standards.
Hear From Our Allied Health Program Students
Everyone at Arizona College has been very helpful and friendly. The class size is smaller than most colleges which is what I like the most.

Whitney Begay, Pharmacy Technician Program
I've really enjoyed my time here in the medical billing & coding program. I've feel as though I am well prepared for the field. I highly recommend Arizona College!

Carey Kimble, Medical Billing & Coding Program
Driving Distance From Tempe to Mesa
The distance from Arizona College – Mesa to the Tempe area is about 4 miles or 13 minutes of driving time on East University Drive. 
Starting in Tempe near the City Hall Plaza, get on East 5

th

Street heading east away from Phoenix.

 

Continue onto East Veterans Way, passing the Sun Devil Football Stadium on your left, and turn left onto East University Drive.

 

Continue on East University Drive for about 3 miles toward the Mesa area and then take a right onto North Dobson Road heading south.

 

Arizona College – Mesa will be located on your left.

 
Allied Health Program FAQ's
Request More Information
By requesting info, you consent for us to contact you regarding our educational programs and services using email, telephone or text - including through the use of automated technology for calls or texts to any wireless number you provide. This consent is not required for you to apply or enroll and you may always call us directly.