A Convenient Location in Salt Lake City
Located next to the I-15 & I-215 interchange, our campus offers easy access to students looking for nursing colleges in Salt Lake City, UT. Our campus also serves students the greater Salt Lake City area including Provo, Ogden, Murray, Millcreek, and Canyon Rim.
Join a Supportive Nursing Community
Our nursing school in Salt Lake City has a vibrant community of nursing students and staff here to help you pursue your BSN dream. Every member of our team cares deeply about your success in the BSN program and we'll be there to support you every step of the way. As you go through the challenges of nursing school, you'll have a community of people to help lift you up as you pursue an RN career.
Small Classes with Personalized Attention
At our nursing program in Salt Lake City, Utah, you can forge new friendships, meet potential future colleagues, and enjoy the focused attention of our devoted faculty within small classes. Our faculty are experienced nurses here to offer you the personalized guidance you need to prepare for an RN career. We keep our classes as small as possible to make sure every student gets the assistance they need.
Tour Our Salt Lake City Nursing College
Excited to learn more about the BSN program? Take a tour of our nursing college to get a feel for campus life and our teaching facilities. The Salt Lake City campus features high-tech simulation labs, student lounge, learning center, and gorgeous views of nearby mountains.
BSN program classes start about every eight weeks, six times per year, so you have the chance to start nursing college sooner. View and download upcoming start dates for new students on our Academic Calendar page.
Contact Us to learn more about Arizona College of Nursing in Salt Lake City and schedule a campus tour.
We realize that nursing students are often busy. That might mean eating a quick lunch or dinner before your next nursing school class or taking a coffee break. Luckily, you'll find a number of places just a 10-minute drive from the Arizona College of Nursing Salt Lake City, Utah campus.
Dining:
Mimi's Café – American bistro offering breakfast, lunch, dinner, brunch, and takeout (about 5-minutes of driving).
Tea Rose Diner – Thai food with unique flavors, offers vegan options, and takeout (about a 5-minute drive).
Zao Asian Café – Fresh, simple, modern Asian café with bold flavors (a 5-minute drive from campus).
Hwa | Korean & Japanese Restaurant – Offers Korean and Japanese dishes, delivery, and takeout (a little over 3-minutes of driving).
Village Inn – Family-friendly chain offering breakfast, brunch, American food, and pies (about a 7-minute drive).
Coffee:
High Point Coffee – Locally owned, offers specialty drinks, pastries, live music, and a community vibe (about 3 minutes of driving away).
Starbucks – For a standard study location with WIFI, coffee, and snacks (a 5-minute drive from campus).
Beans & Brews Coffeehouse – Offers takeout, dine-in, free WIFI, drive-thru, and food (about a 6-minute drive).
Cup-n-Counters – A locally owned coffee shop in Murray, open daily (roughly a 6-minute drive).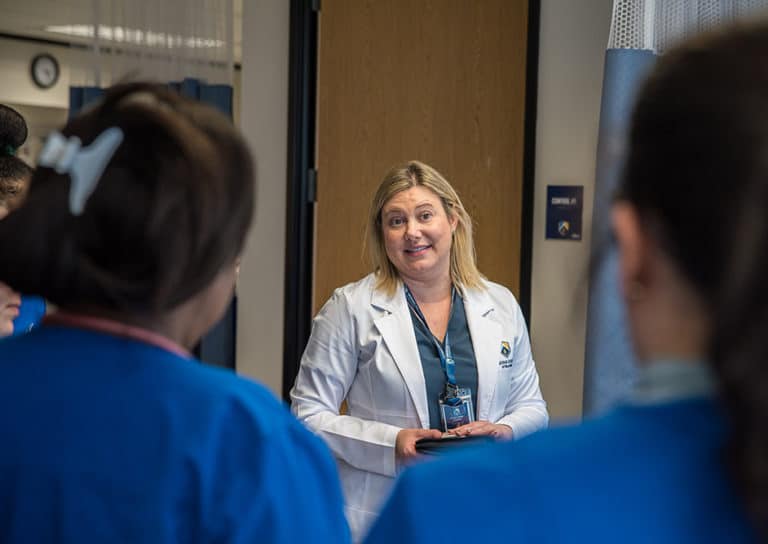 Student Leadership Opportunity in Salt Lake City
Our Student Ambassador Program is a leadership opportunity for students dedicated to serving and representing Arizona College of Nursing. The mission of the Student Ambassador Program is to cultivate student leaders who will share the Arizona College of Nursing experience with prospective students, their families, and community members and represent the college at special events.
Help us share our love of nursing and Arizona College of Nursing by becoming an official Student Ambassador today! Visit our Student Ambassador page to learn more!
Is this Nursing Program Near Me in Salt Lake City, UT?
Arizona College of Nursing offers a nursing degree for the entire Salt Lake City, Utah region, including Provo, Ogden, Tooele, and Eagle Mountain.
Driving Distance From Downtown Salt Lake City to Arizona College of Nursing – Salt Lake City
The Distance from Downtown to Arizona College of Nursing – Salt Lake City is about 9 miles, or about 15 minutes of driving time. 
Driving Directions 
From Downtown Salt Lake City near Pioneer Park, travel west on University Boulevard or West 600 South to get on the Dwight D. Eisenhower (Interstate 15) traveling south.

 

Continue on Interstate 15 South for about 8 miles through the South Salt Lake and Murray areas, then take exit 300 to Spartan Street in Murray and take a right on College Drive.

 

From there take a right on W Ascension Way and continue for about a half mile until you reach Arizona College of Nursing. 

 
Request More Information
By requesting info, you consent for us to contact you regarding our educational programs and services using email, telephone or text - including through the use of automated technology for calls or texts to any wireless number you provide. This consent is not required for you to apply or enroll and you may always call us directly.